CAA Requirements for Permission
The course overview:
To fulfill the CAA requirements we offer  4 days (4 nights arriving the day before) residential course (B&B including lunch) which includes:
Student study manual, both hard copy and PDF, covering the CAA syllabus subject areas
Theoretical Knowledge ground school and the formal exam
Practical flight training (as required) with an instructor
Practical flight/skill test with an examiner, guaranteed so, no returning at a later date (CAA approved indoor facility for adverse weather conditions – rain and or high winds) 
Operations Manual  
The creation of an Operational Manual is paramount and will be used as part of the flight/skill test. We provide our own CAA approved Operation Manual which together we will amended to your specific requirements, which needs to be submitted to the CAA as part of the approval process.
Training Course Syllabus
In detail to gain permission for commercial operation (PfCO) and therefore approval, the CAA require that all Pilots attends an approved course, which consists of:
1.   Passing the theoretical knowledge exam based on a syllabus provided by the CAA covering:
Air Law
Principles of Flight
Meteorology
Airspace and Operating Principles
Operations Manual & Risk Assessment
Human Factors
Operator Responsibilities & Airmanship
Navigation
Flight Planning
These subjects are basically the private pilot exams tailored to UAV drone operations.
2.     Pass a flight test with a CAA approved examiner
3.     Produce an operations manual which states the procedures that will be followed when conducting flights. The operation manual follows a template provided in a CAA Publication called 'CAP 722' and will be provided by us.

If the above dates are not suitable we have introduced a 'Course on Demand' with one on one instruction, which will run outside our fixed dates or be included if it coincides, starting each Monday from 2nd of July.
We can also wrap the 'Course on demand' around a weekend Friday to Monday or over two weekends, as is convenient, you choose.
Both full time residential course formats costs £990 +vat
Our role is to instruct and guide you through the CAA approval process with our experience and regardless of of the weather we will deliver exactly that.
In the unlikely event of having to resit the theoretical exam or retake the flight test, we will provide further instruction and the resit and retake are free of charge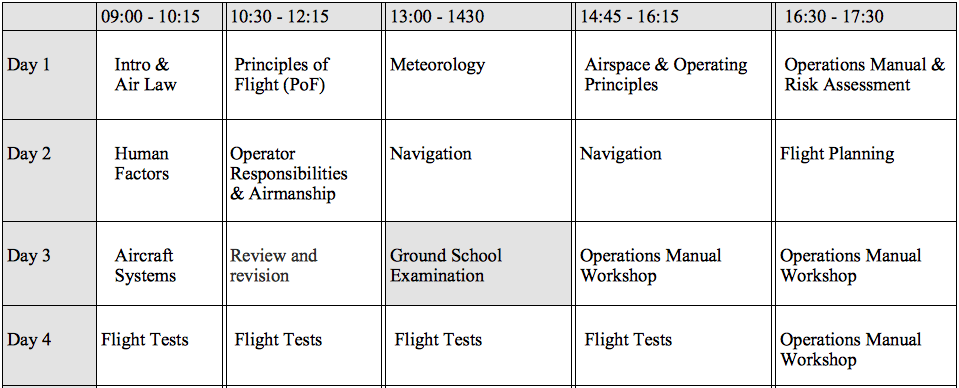 The application fees to the CAA for your 'Permission for Commercial Operations (PfCO) are payable by the student direct to the CAA and are currently £173
If you use your own drone please ensure you have the correct insurance. Please email us if you are not sure and we'll point you in the right direction, we currently use 'Coverdrone'
However, if you elect to use one of the schools drones you are covered by our insurance.
Sample pages from the student study guide